Guanacaste is the fastest growing tourism province in Costa Rica. A wide variety of tourism activities are available in the region and can be arranged by the Villa Concierge. Here are a few of our favorites.
For single travelers please contact our Front Desk for special rates and options on all of our tours.
VILLA BUENA ONDA SIGNATURE TOURS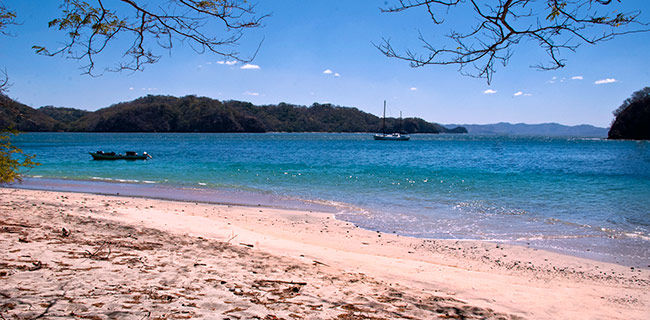 Hidden Beach Tour and Barbecue
Private Tour:
$225 per person
Non-Private Tour:
$169 per person (min 4 people)
The tour starts by cruising around the Bahia Culebra a bit, looking for whales, dolphins, rays, etc. While cruising around, we will throw a few fishing lines in to try our luck at catching something additional to throw on the grill (optional)! After a while, we'll select a beach out on the Peninsula Papagayo for some snorkeling, stand-up paddling, and grilling on the BBQ. We always try to select the beach with not only the best (and calmest) conditions but also the least amount of people. These beaches are generally not accessible by land, which usually means there are not too many people. While we prepare your BBQ lunch on the beach, you can do as you please. Try exploring caves and hiking around the hills a bit, snorkeling or paddling on the SUPs, or maybe just soaking up the sun. If the tide permits you can ride up the Palmares Estuary on the motor boat for more wildlife spotting like crocodiles, monkeys, and many birds. This half-day tour is all about just being out on the water and enjoying a little bit of everything!
Duration: Tour time (5 hours) + Transportation (15 mins).
Includes: Round-trip transportation, naturalist guide, snorkeling and stand-up paddling equipment, fishing poles, drinks (water/soda/iced tea/beer), light snacks (ex. chips and dip, fruit, banana bread), and full BBQ lunch including fresh salad, grilled veggies, and grilled prime meats like BBQ chicken and/or beef kabobs.


El Viejo Wetlands Culture & Nature Combo Tours – $135 to $200 per person

Experience the many diverse ecosystems and varied species of birds, reptiles and mammals that make up the El Viejo Wetlands. This 5000 acre sanctuary that frames the Palo Verde National Park, is a must see for anyone visiting the region.
Travel along the Tempisque river by boat which affords you an unmatched opportunity to see hundreds of species of birds as well as crocodiles, monkeys and more. Experience the natural trails of the dry tropical forest by horseback or fly over the lowlands by zipline!
And for a bit of history and culture, tour the old sugar cane mill while sharing some "panela lemonade", handmade tortillas or fresh coffee followed by a delicious and authentic lunch at the old sabanero house!  Choose to do one or all of the activities for a wonderful day at a true Guanacastecan treasure!
Includes: private transportation, fruits, beverages and lunch


The Congo Trail Canopy – $60 Per Person
This canopy is an easy, 20 minutes drive away from our hotel, located  between Flamingo and Ocotal beaches. Surrounded by a tropical forest with dry, high trees, you will glide through the forest suspended from cables. The guides will give you basic instructions and both your safety and fun will be guaranteed. Somewhere along 11 zip-lines you will encounter swinging bridges with beautiful vistas of the area. Enjoy yourself! What to bring: hiking shoes,  hiking shorts, T-shirt, camera, binoculars, sunscreen, insect repellent.
Includes: round trip transportation and bilingual guide.

White Water Rafting The Colorado River – $128 Per Person or $185 per Person with Private Transportation & Customized Tour
Perfect as an adventurous experience for the whole family, this tour will take you through impressive Colorado River canyon scenery. After enjoying views of the surrounding tropical forest as you're paddling through the Colorado's class II-III rapids, take a lunch break  and relax by the natural swimming pools on this spectacular river. What to bring: comfortable clothes (swimsuit), strap on sandals or water shoes, camera, binoculars, sunscreen, insect repellent.
Duration: approximately 4.5 hours.
Includes: round trip transportation, bilingual guide and lunch.
Guardar
Guardar