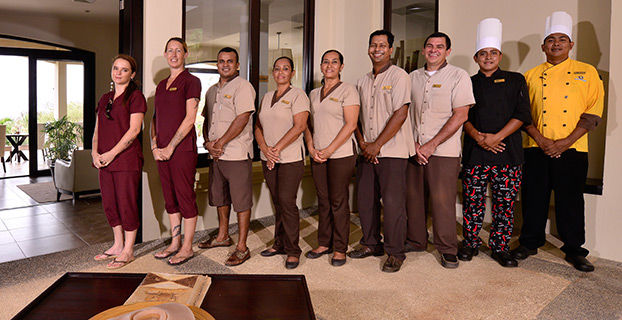 Unbeatable service at our Luxury, boutique hotel
Jennifer Lotz
Operations Manager
I am originally from San Jose de la Montana, a small town in Costa Rica's Central Valley. I have been working in tourism since 2001 and have had the good fortune to work abroad in Spain, Thailand and Boston in the US mostly working with Food and Beverages and Event Planning, many of these skills come in handy when managing the operations at the Villa. I live right next door, so will be able to assist every guest if they need anything at all! I love to head to the beach to go swimming as much as I can with my dog – Tika. My favorite spot to swim is very secretive as you need a 4×4 to get there, but the water is perfect for swimming and very picturesque – it's called Playa Penca. I look forward seeing you down here soon!
Shelley Huff
Guest Services Representative (Concierge)
My name is Shelley and I am originally from the United States. I moved to Costa Rica in 2009 to surf and enjoy a more simple life on the beach. I live in the town of Playas del Coco with my husband Eddie, our son Marley and our best friend Lemmy, the pug dog. We prefer to spend our time out on the water stand up paddling, surfing, or just relaxing on the beach. I love working in Guest Services at the Villa and helping people to experience the best of Costa Rica and Guanacaste culture and to show them all the things that made me fall in love with this incredible country.
Gabriela Sanmiguel
Sales & Reservations Rep
Gabriela is from Venezuela and moved to Costa Rica in 2005 when she came for a wedding and immediately fell in love with the country. After traveling around the country she decided to become part of tourism industry, experiencing Costa Rica as a tourist as well as a resident, living in different areas like the Central Pacific, the Cloud Forest and after becoming a mom living closer to San José. One of the things she loves the most is inspiring people to come to Costa Rica and experience the beauty of its nature and its people.
Christian Carballo
Bartender
I am from Sardinal here in Guanacaste and have been working at the Villa since it opened in 2008. I have over 12 years in the lodging industry, and it has been a pleasure working at the Villa ever since I started. I live in the local town with my family. I have a little boy and girl and in my free time I go to the beach with them. We love to go to Tamarindo whenever possible as it's a popular beach and always has lots going on. If you have the chance to take day tour whilst at the Villa I'd recommend the Borinquen Tour as it covers all the best aspects of this lovely area. I look forward to welcoming you to the Villa and will be more than happy to prepare my special Mojito for you!
Gabriel Navarette
Head Chef
I am from Sardinal here in Guanacaste, and I have over 12 years experience in gastronomy and was previously working at Ocotal Beach Resort. I have been working as the Head Chef at the Villa since 2009. My favorite dish that I like to prepare for guests would be a good mix of sea food. I live with my family in Libertad, and I have 1 daughter who is 12. In my free time I play a lot of football 'soccer' and basketball. I am a big fan of Saprissa – Costa Rica's best team! I would recommend a visit to playa Hermosa as the sea is perfect for swimming and is very beautiful.
Migdalia Balmaceda Ruiz
Head House Keeper
I am originally from Rivas, Nicaragua but have been living here in Costa Rica since 1989. I came to Guanacaste in 2002 and have been working in tourism ever since. I have been working at the Villa since early 2008. I live in Santa Rita with my family and I have 2 boys. I often like to ride my bike on a trail called Tabores with my son as it's full of nature and has some amazing views. We often see the howler monkeys which you can also see from the Villa itself, this is one of the many reasons I like to work here — the scenery is beautiful and very relaxing.
Rosa Maria Balmaceda
House Keeper
I am originally from Rivas in Nicaragua which is close to the Costa Rican border. I have been living here in Santa Rita, Guanacaste with my family, since 1993. I have two lovely boys and a beautiful girl of 7. I have been working at Villa Buena Onda since 2010. I really like working in tourism as it gives me the chance to meet new people. In my free time I like to hike with my daughter around my local area as there are lot of places to enjoy here in Guanacaste.