Costa Rica Adventures await!

Visit hidden beaches, nature parks and reserves of Guanacaste, snorkel, scuba dive, learn how to surf, or experience the thrill of a zipline.
 Villa Buena Onda Signature Tour
---
 Hidden Beach Tour and Barbecue
$200 per person, $250 for private tour
Your tour starts by cruising in a motorboat around the Bahia Culebra a bit, looking for whales, dolphins, rays, etc. While cruising around, just let us know if you want to toss in a few fishing lines! Later in the morning we will select a beach along the Peninsula Papagayo for snorkeling, stand-up paddling, and grilling on the BBQ.
While we prepare your BBQ lunch on the beach, you can do as you please. Try exploring caves and hiking around the hills a bit, snorkeling or paddling on the SUPs, or maybe just soaking up the sun. This half-day tour is all about just being out on the water and enjoying a little bit of everything!
Tour includes: Round-trip transportation, naturalist guide, snorkeling and stand-up paddling equipment, fishing poles, drinks (water/soda/iced tea/beer), light snacks (ex. chips and dip, fruit, banana bread), and full BBQ lunch including fresh salad, grilled veggies, and grilled prime meats like BBQ chicken and/or beef kabobs.
---
El Viejo Wetlands Culture & Nature Combo
$135 to $200 per person
Experience the many diverse ecosystems and varied species of birds, reptiles and mammals that make up the El Viejo Wetlands. This 5000 acre sanctuary that frames the Palo Verde National Park, is a must see for anyone visiting the region.
Travel along the Tempisque river by boat which affords you an unmatched opportunity to see hundreds of species of birds as well as crocodiles, monkeys and more. Experience the natural trails of the dry tropical forest by horseback or fly over the lowlands by zipline!
And for a bit of history and culture, tour the old sugar cane mill while sharing some "panela lemonade", handmade tortillas or fresh coffee followed by a delicious and authentic lunch at the old sabanero house! Choose to do one or all of the activities for a wonderful day at a true Guanacastecan treasure!
Includes: private transportation, fruits, beverages and lunch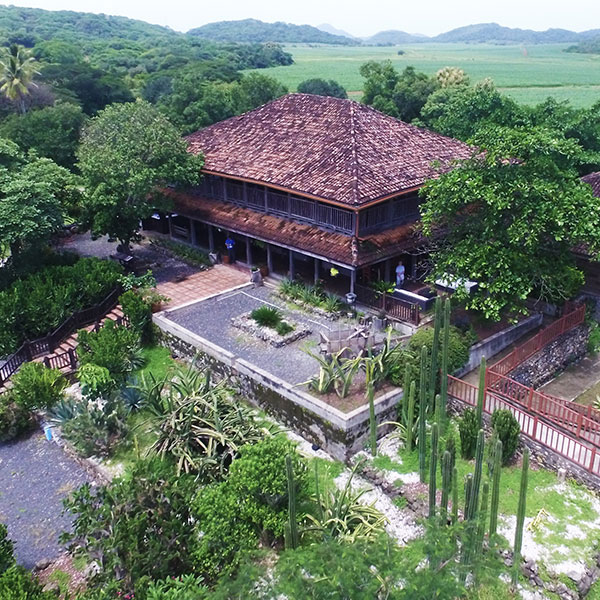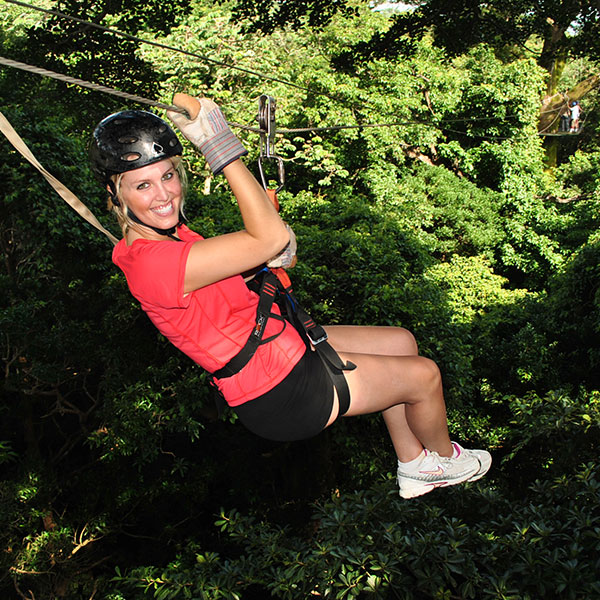 $60 per person.
This canopy is an easy, 20 minutes drive away from our hotel, located between Flamingo and Ocotal beaches. Surrounded by a tropical forest with dry, high trees, you will glide through the forest suspended from cables. The guides will give you basic instructions and both your safety and fun will be guaranteed. Somewhere along 11 zip-lines you will encounter swinging bridges with beautiful vistas of the area. Enjoy yourself! What to bring: hiking shoes, hiking shorts, T-shirt, camera, binoculars, sunscreen, insect repellent.
Includes: round trip transportation and bilingual guide.
White Water Rafting The Colorado River
Perfect as an adventurous experience for the whole family, this tour will take you through impressive Colorado River canyon scenery. After enjoying views of the surrounding tropical forest as you're paddling through the Colorado's class II-III rapids, take a lunch break and relax by the natural swimming pools on this spectacular river. What to bring: comfortable clothes (swimsuit), strap on sandals or water shoes, camera, binoculars, sunscreen, insect repellent.
Duration: approximately 4.5 hours.
Includes: round trip transportation, bilingual guide and lunch.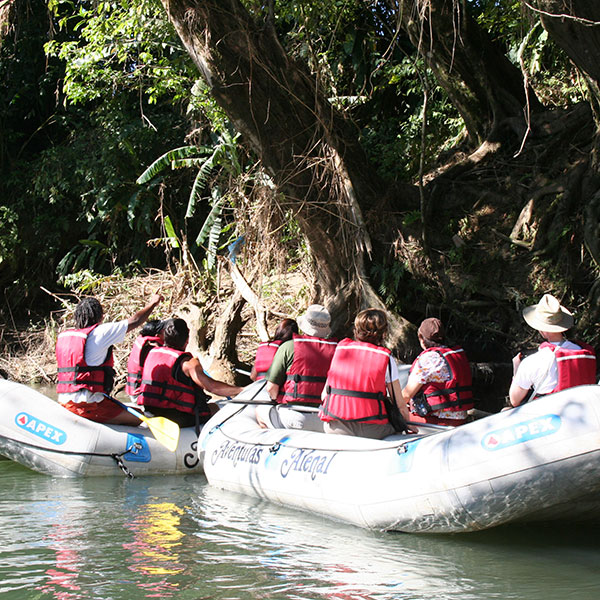 Horseback Riding, Canopy Ziplining, Mudbath & Hot Springs
Borinquen is located in Rincon de la Vieja National Park. This resort is near the base of Rincon de la Vieja Volcano and sits on an untouched part of the transitional forest. Start the day with a horseback riding trip over the mountain, enjoy a 40-min ride that takes you through the forest to get to the canopy. Borinquen has the latest in engineering technology for canopy tours and is the highest in Guanacaste, great for thrill-seekers. After a hearty lunch, indulge yourself in a mud-bath followed by a dip into thermal waters.
Included: lunch, round trip transportation, horseback riding, bilingual guide, canopy, mud bath & hot springs. Duration: 6.5 hours approx.
Essentials: hiking boots or trail shoes, long pants or shorts, T-shirt, cap, sunscreen, insect repellent, swim wear & towel.
$135 per person or $170 per person for private transportation & customized tour (min 2 people)
Rincon de la Vieja National Park
Rincon de la Vieja National Park is home to one of the six active volcanoes in Costa Rica which last erupted in September 2011. The park is also home to many terrains such as volcanic rocks and dried lava flows, moist humid forests and cloud forests. There are also bubbling hot mud pools, eerie steam holes, sulphurous fumaroles, waterfalls and beautiful jungle trails to explore!
If you are looking for an authentic wildlife experience, are in good physical condition, and looking for an extreme hike, this is definitely a tour for you!
Included: lunch, transportation from/to your hotel, beverages, local expert guide & park entrance fee.
Essentials: trail shoes with grip, long pants or shorts, and a cap. Bring binoculars, camera, & insect repellent.
Please note that the tour is not available on Mondays.
Scuba Diving is one of the most popular tours for people visiting Guanacaste. Dry climate, warm waters and volcanic formations create ideal conditions for excellent visibility under the sea and its natural wonders!
From Hermosa Beach: The dive sites are formations of volcanic rock with corals. This dive profile is multilevel diving, with currents being moderate to nil. The visibility is between 25 and 50 feet with a temperature of between 70 and 85 ° F. Maximum depth is 80 feet.
Dive sites: Tortoise (shipwreck), Punta Argentina, Meros (sunken sailboat), Punta Ballena, Virador, Monkey Head, Shark, and Ghost.
Marine fauna: White tip sharks, rays (whip ray and eagle rays) eels, lobsters, seahorses, schools of fish, octopi.
From Flamingo Beach: The preferred sites for diving are The Catalina Islands, for their incredible amount of pelagic fauna, the presence of sea eagles, rays, white tip sharks and shoals of urels. The relative distance from the coast ensures good visibility all year. The dive sites are formations of volcanic rock with corals. It's a multilevel diving with free descent, current can be moderate to nil; with a maximum depth of 90 feet. It has a visibility between 25 and 50 feet, with a temperature between 70 and 85 ° F. The minimum license required for this tour is Scuba Diver or PADI Open Water Diver or equivalent (SSI, NAUI, and FEDAS).
Marine fauna: White tip sharks, rays (whip ray, stick ray, and eagle rays), eels, lobsters, seahorses, octopi, manta rays (season from January to May)
Dive sites: The Wall, Hat, Sharks, the Widow and Elephant.
Prices vary depending on a number of immersions and dive site. Starting $120 per person* (min 2 people)
From the nearby beaches of Tamarindo, Langosta and Avellanas, you'll enjoy the altitudes of the mountains surrounded by panoramic views of the coastal Pacific North. Along the way, you will encounter a variety of flora and fauna native to the Guanacaste region, including Guanacaste trees, a conservation of the Pochote trees and Teak trees. You could also see a variety of monkeys, coatis, armadillos, and birds. The tour will introduce you to traditional life in such small towns as Hatillo, El Trapiche, and Guatemala and will end at our private farm.
**Must be 16 years old or older to drive ATVs.
Included: transportation from/to your hotel, fully equipped ATV, safety helmet, bilingual guide.
Essentials: hiking boots or trail shoes, long pants or shorts, T-shirt, cap, sunscreen, insect repellent, swimwear & towel.
2 hrs $80 per person / 4 hrs $120 per person (min 2 people)
Boat Expedition in Palo Verde National Park
Palo Verde is one of the most important and interesting national parks in Costa Rica. It has at least 12 different habitats within the park including mangroves, swamps, swamps forests, saltwater and freshwater lagoons and marshes. In this tour you will get into the Tempisque River, the most important river of Guanacaste. Enjoy a 2.5-hour boat ride and watch the array of wild birds and other animals such as howler monkeys, green iguanas,
coatis, anteaters, and crocodiles. The park provides shelter for a great variety of birds such as the American woodstock, the boat-billed heron, the tiger heron and the tropical kingbird. This is a great tour for those who love nature and bird watching!
Included: lunch, transportation from/to your hotel, drinks, fruits, boat tour and local expert guide.
Essentials: comfortable cool clothes, comfortable shoes, sun hat, binoculars, camera, sunscreen & insect repellent.
$95 per person or $145 per person (min 2 people)
The surfers' beach town of Tamarindo, just a short hour and twenty-minute drive away, is a big contrast to the smaller and less populated town of Coco. This is a long, lighter sand beach with its gentle waves, perfect for learning to surf, is the star of this town. The large variety of shops, selling everything from surfboards and apparel to one-of-a-kind and hand-made items, as well as its' wide variety of restaurants (inspired by the largely International community) are a reason to spend a few hours here. On the way, stop and spend some time on the lighter sand beaches of Playa Flamingo, Playa Conchal, and Brasilito.
Includes: private driver, gas, insurance.
Essentials: bathing suit, bathing suit cover, towel, camera, sunblock and bug spray
$220 (from 1 to 10 people), private only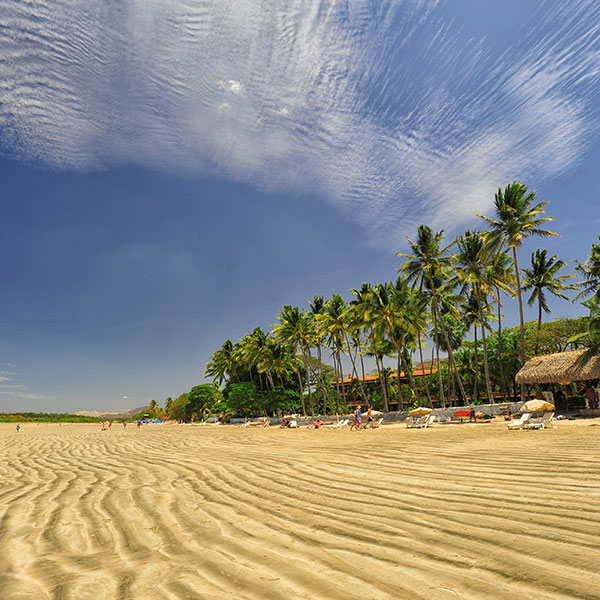 Tenorio River Safari Float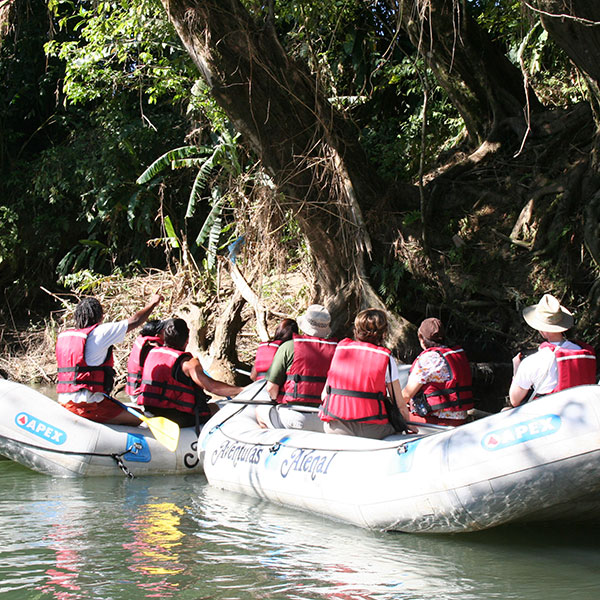 Enjoy the tranquility of the lower section of the Río Tenorio on this easy-going, nature-lovers safari float. Your eagle-eyed guide will paddle and steer your raft as he points out the wide array of species of plants and animals. Spot howler monkeys, lizards, and even river otters, plus an incredible amount of tropical birds such as ospreys, boat-billed herons, parrots, kingfishers and more as you quietly pass by.
Please note: Our river trips run rain or shine. If river conditions are unsuitable for the safari float on the Río Tenorio, your guide might make the call to change to a backup river and/or offer another tour. You get a full refund if no tour is run.
Included: lunch, transportation from/to your hotel, naturalist guide & fruit break.
Essentials: comfortable clothing, sneakers or sandals that cover the toe completely and strap on, sun block, cameras.
$115 per person or $155 per person for private transportation & customized tour (min 2 people)
Surf Lessons in Tamarindo
Learn to surf in Tamarindo, one of Guanacaste's premiere surf towns! Each lesson includes a brief on-shore introduction followed by an hour and a half in-water lesson, taught by highly qualified surf instructors. Each instructor is bilingual and has years of training. The gentle, smaller waves of Tamarindo are ideal for beginners and nearly guarantee you'll be standing and surfing on your own! Student to instructor ratio is some of the lowest around, ensuring that you'll have plenty of attention.
Included: transportation, bilingual guide, rash guard, and surfboard.
Essentials: sunscreen, swimsuit, and a towel.
$120 for one person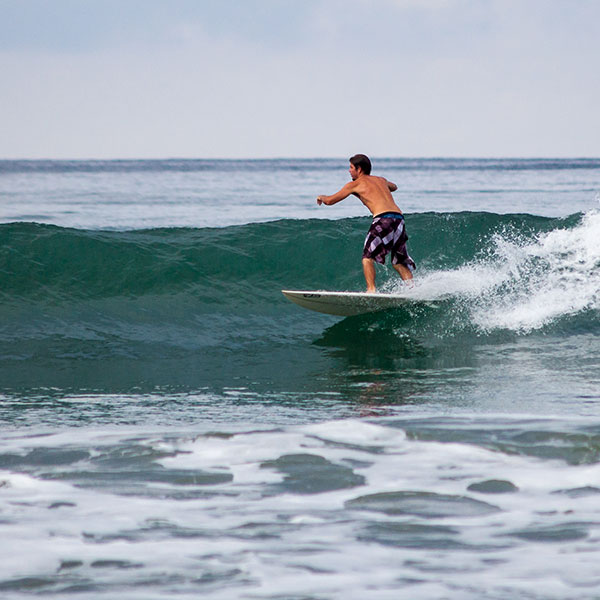 Stand Up Paddle Boarding or Kayak
Stand up paddling is super easy and a great way of exploring the waters of the Papagayo Gulf! We offer morning and sunset tours lasting 2, 3 or 4 hours which explore our beautiful coastline and secluded beaches. A professional and fully bilingual local guide with 15 years ocean experience will guide you along, sharing his knowledge of the marine life and area. In between small stretches of paddling, stop to snorkel or enjoy a picnic on the hidden beach!
Included: beverages and digital photos taken by your guide. Three and four-hour tours include small homemade picnic and snorkeling gear.
$78 per person, 2 hours / $90 per person, 3 hours with snorkeling (min 2 people)
One Day Tour to Nicaragua
Your opportunity to visit another Central American country and experience their culture, nature and great souvenir shops. Start the trip at 6 am driving on the Pan-American Highway. It will take about 1 hour and 30 minutes to get to Nicaragua's border.Stops include: Catarina stop, where you will enjoy an incredible view over the Lagoon, Granada, and the Nicaragua Lake; visit to the famous Indian market of Masaya to do some shopping and experience the Nicaraguan's lifestyle; Masaya volcano, an active volcano where you can stand right next to its crater; stop at La Merced Church—considered one of the most beautiful buildings of Granada—ascend the stairs and reach the roof of the church.
From here, you have a panoramic city view of Granada, Mombacho Volcano, Nicaragua Lake with the islets. Finally— Granada the oldest mainland city in the Western Hemisphere of the Americas, where we will have an hour to explore it on your own!**Optional: enjoy a ride on a horse cart around this antique town.
Tour includes a/c vehicle, bilingual guide, border fees, entrance to the Masaya Volcano park, shopping in Masaya Market, entrance fee to La Merced tower, breakfast & lunch and Granada city tour. All land tours include transportation pick up from your hotel or villa, Spanish- English speaking guide.
Includes: a/c vehicle, bilingual guide, border fees, entrance to the Masaya Volcano Park, shopping in Masaya Market, entrance fee to La Merced tower, breakfast & lunch and Granada city tour.
Duration of the tour: 14 hrs.
$350 per person for private transportation & customized tour (min 2 people)
***Please don't forget to bring your passport. We can arrange overnight trips too, so please inquire.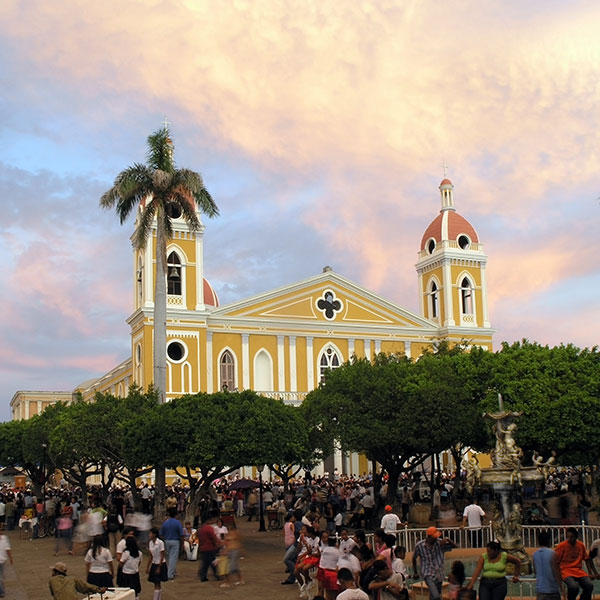 Arenal Volcano Area Tours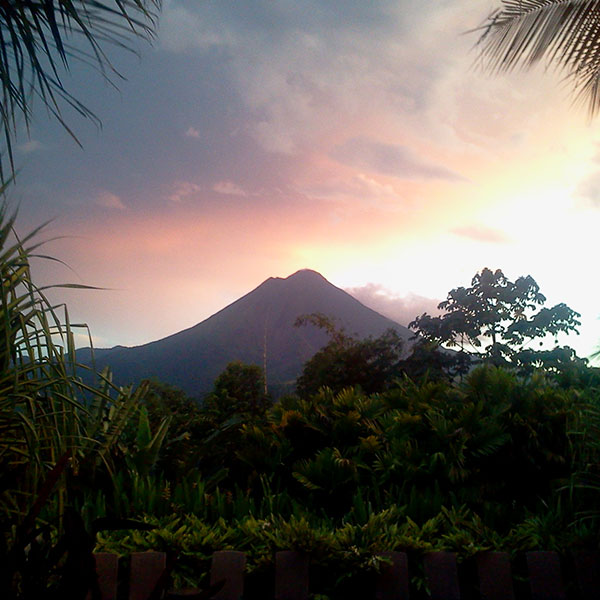 Prepare for an early start of the exciting adventure day! We'll head out on the Pan-American Highway and make our way through small towns of Guanacaste area and the scenic landscape of Lake Arenal. Take a break along the way to stretch your legs and grab a snack. When we get to the Arenal Volcano area, we'll stop by the Desafío Adventure Company office in the center of La Fortuna. Pick your favorite among many exciting Arenal Volcano activities and tours such as the Lost Canyon Adventure tour, a canopy zipline tour, hanging bridges guided hike or seeing the La Fortuna waterfall and just relaxing in local volcano-heated hot springs.
Included: round-trip transportation, lunch or lunch & dinner (depending on the tour of your choice), hot springs and/or national park entrance fees, drinks and experienced guide.
From $175 to $400 per person for private transportation & customized tour (min 2 people)
Along with some of the best beaches and surfing in Costa Rica, Guanacaste is now also famous for its sportfishing. A top-notch angling destination, this province gives the avid fishing enthusiast a number of different locations to fish from, which in turn means
that no one region is ever overcrowded or teeming with boats. Add to this, the excellent weather conditions found here means that one can enjoy sports fishing off the Guanacaste coast all day long!
Prices for fishing tours can vary greatly between a few hundred dollars to a few thousand depending on how many people are going, what you want to fish for, the size of boat you require, etc. For prices and more information, please speak with one of the Front Desk staff, who would be more than happy to help create a fishing excursion to your own specifications and price range.
Prices vary depending on the choice of boat, half-day or full-day, offshore or inshore fishing.